Strandgade 108, 1401 København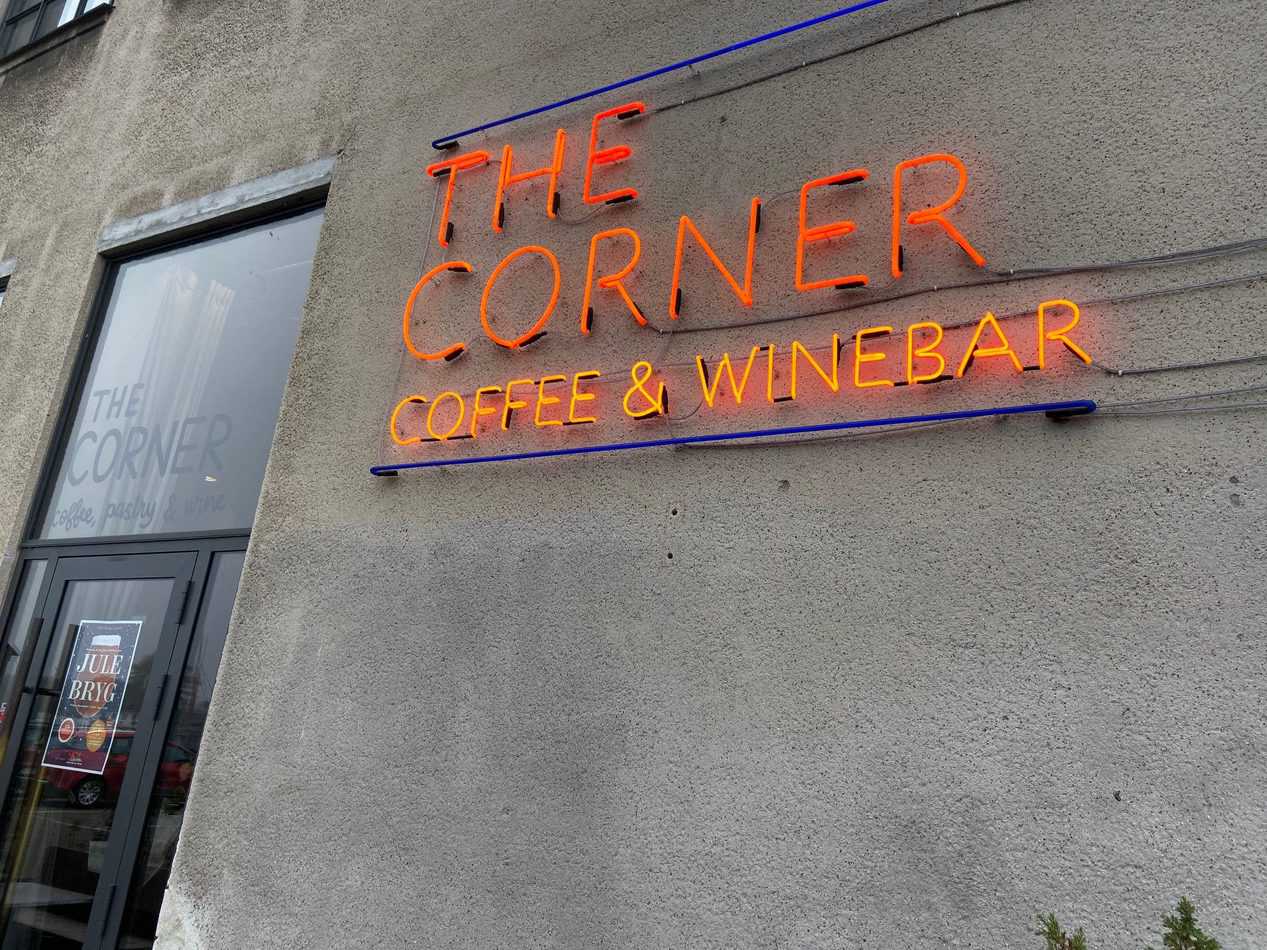 If you're looking for a really tasty breakfast or lunch, with a Nordic cuisine feel, you should definitely try The Corner. It's located just after you pass Inderhavnsbroen, which is the bridge for pedestrians and cyclist that crosses the harbor, from Nyhavn to Christianshavn. It's just a short 10 minutes walk or so and very recommendable.

They serve both breakfast and lunch from when they open and until 2.30PM. The café is relatively small – maybe a maximum of 20 seats, all on bar-stools. You order at the bar and pay right away.

At The Corner they know their coffee! World champion barista Tim Wendelboe is in close collaboration with the crew and the cup of cortado I had here, was one of the best I ever had.

But they also know their food! It's a part of the adjoining Restaurant 108, which got its first Michelin star only a year after opening and is the sister restaurant to no-other than Noma. And the one in charge, Kristian Baumann, is of course a former Noma apprentice.
---
Let's eat!
Here's what my wife and I ordered, to share:
Oat porridge with berry compote and hazelnut milk
Sourdough bun with whipped cream and cheese
Fresh pork sausage, with mustard and greens
Scrambled eggs, on butter toasted rye bread with crispy pork fat and chives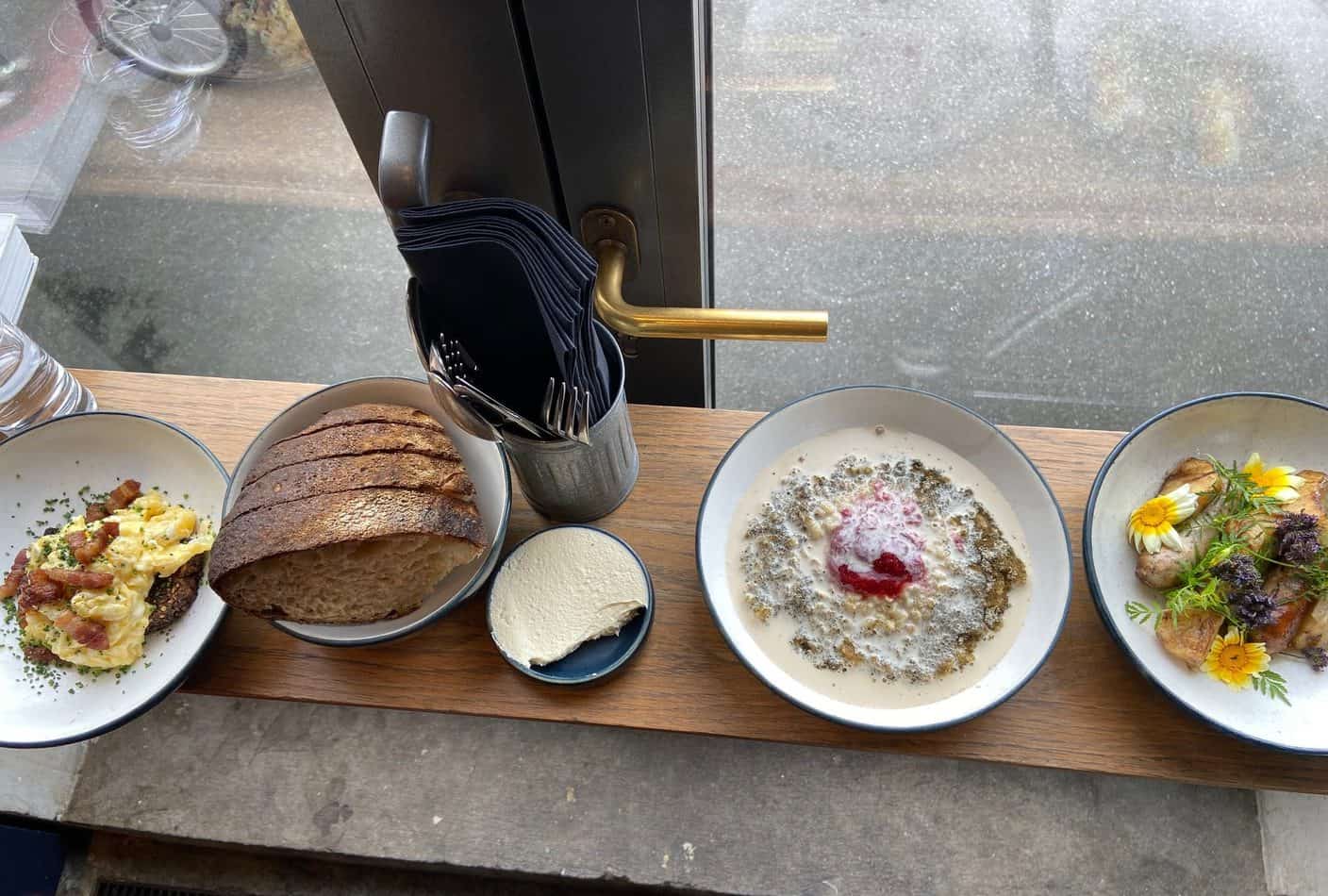 Just writing it down makes my mouth water! Let's start with the porridge. This is not an ordinary porridge like you would make at home. It's creamy with a lovely compote and goes well with the hazelnut milk, which I normally don't care much for, but in this combination, it's good. This dish was actually the one I liked the least, but it was still enjoyable. This was our second visit at The Corner and we also ordered the porridge last time – where we liked it a lot more.

I would love if I could make the sourdough bread they serve at The Corner, myself. Chewy texture and great taste. The whipped cream is not exactly what it sounds like – or is it? I mean, it is whipped cream, but not the same as you would put in hot chocolate – they probably whipped it for a lot longer, close to butter instead and very addictive.

Next up is the sausage dish, which is on the far right in the picture. Tasty fried sausages, with sweet mustard seeds and edible flowers – fantastic combination of flavors! And such a beautiful display as-well.

Last but not least, a classic, which has been perfected by The Corner. It's just scrambled eggs on bread, with some bacon and chives – but you've never had it like this before. Every bite is a taste from heaven, so creamy eggs, salty pork fat and really good rye bread, which they toasted crisp and buttered afterwards. Yum! I could eat this every day.
---
Conclusion
We love The Corner! The pork sausage and the scrambled eggs were the high points. And that cortado, not to forget!
We payed 400DKK for the 3 dishes, with bread and two coffees – we were full. I don't know any other place, where you get food and coffee of that quality for so little money.
There are so many things on the menu, we haven't tried yet – not that we need an excuse to go back. We will return soon I'm sure and so should you!