---
Live like a king or at least as a celebrity
Hotel d'Angleterre – Kongens Nytorv 34, København K
This is where royalties and celebrities stay, when in town and by far the most prestigious hotel you can find in Copenhagen. Michael Jackson, Juan Carlos I of Spain, Oprah Winfrey and Winston Churchill have stayed here, just to mention a few. The list continues on Wikipedia.
Rooms start at 3350DKK/night, breakfast not included – that's another 600DKR. But then you can enjoy this luxurious hotel on probably the best address in town – right on Kongens Nytorv. You're in walking distance to Nyhavn, Amalienborg, Kongens Have and the shopping street Strøget, is literally just around the corner.
Hotel d'Angleterre can boast of a spa, fitness room and the only indoor swimming pool in inner Copenhagen. While residing at the hotel, you get free access to all these facilities, though the spa treatments are booked at a cost.
Fancy a great meal? Of course you don't have to leave the premises. Restaurant Marchal is found on the ground floor, facing the street. Named after the founder of the hotel, this restaurant gained its Michelin star in 2014 and is well known for its champagne brunch, which sells out quickly, whenever they open for the booking.
---
Private view over the Tivoli Gardens
Nimb Hotel – Bernstorffsgade 5, 1577 København
This 5-star hotel right across the Central Station, is part of the Tivoli Gardens and that makes it a obvious choice if you plan to visit the old garden. The building is from 1909, but underwent a major renovation in 2008. Architect and former director of Tivoli, Knud Arne Petersen, created the building in Moorish style and this really makes it stand out, when comparing it to the rest of the Copenhagen architectural design.
All rooms, apart from one (of course also the cheapest), offers a view of the Tivoli and prices start at 4500DKK/night (with the view), depending on time of year. But then you can enjoy individually designed rooms, equipped with B&O and Apple TV and some even have a open fireplace. Make sure to take advantage of the 300m2 wellness area and pop up to the rooftop, where a heated outdoor pool can be found, along with a cocktail bar. And you won't go to bed hungry either – Nimb has several establishments in-house. One serving open face sandwiches, one focusing on organic vegetables without being a strictly vegetarian restaurant, one serving delicious cakes, a brasserie and two bars, one doubling as a grill.
---
Fully booked! The hotel with only one room
Central Hotel – Tullinsgade 1, 1610 København
Yes, you read it right – this hotel, situated in the neighborhood of Vesterbro, only has one room. So you're not going to get lost on the wrong floor or even have a chance to use the gym – the only thing you can do is stay in your room or pop down under to the adjoining café, which it sits on top of. Or go explore the city of course. You're only a few minutes walk from good restaurants and bars (Lidkoeb, is just around the corner. Go to the top floor, where you can find an excellent and cosy whiskey bar) or take a lovely stroll around the lakes, where you can watch the swans or maybe go for ride in a pedal boat.
The hotel room features a double bed, bathroom with a shower, minibar, tv and a desk, along with some stools to sit. The price per night is 2500DKK.
---
Ahoy! The floating hotel
Hotel CPHLIVING – Langebrogade 1A, 1411 København K
This unusual hotel is located very close to city center, with only 10-15 minutes walk to all the attractions of inner Copenhagen. It was originally a barge from Germany that, after being extended in Poland and built in Estonia, was converted into the hotel, you now can book a room in. The boutique hotel consists of 12 double rooms, all with a panoramic views of the harbor and city. You can lie in your bed or even take a shower while enjoying the view of the town or you can go upstairs to the rooftop terrace and relax on the sunbeds. It lies at the quay, just next to the bridge Langebro, which connects inner Copenhagen with the island Amager. So central, but also in walking distance to Freetown Christiania and Islands Brygge.
The price for a double room is 1380DKK/night, breakfast included.
---
Hostels – when traveling on a budget
Danhostel – H.C. Andersens Boulevard 50, 1553 København V

Danhostel – Vejlands Allé 200, 2300 København S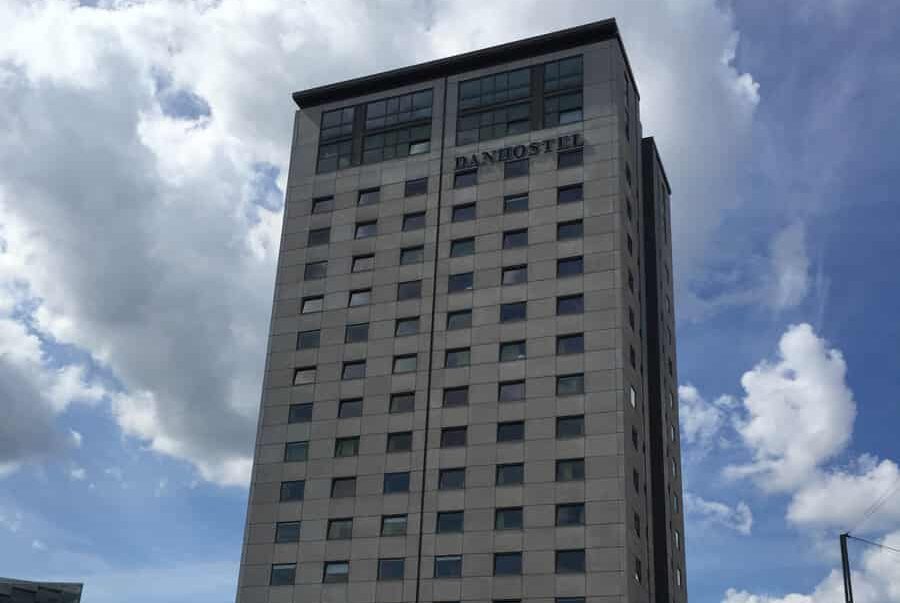 There are plenty of hostels to choose from in Copenhagen – just take a pick. The chain Danhostel is one of the cheapest, but still highly rated by customers. The prices start at 150DKK/night.
The first one (on H.C. Andersens Boulevard) is very central, a few hundred meters to Tivoli Gardens in one direction and Islands Brygge in the other. Pick this one if you want to explore the city and enjoy the nightlife. You can easily walk home in the wee hours of the morning if you stay here.
The other (on Vejlands Allé) is in the neighborhood Ørestad, right on the border to the protected natural area of Amager Fælled. It's still easy to explore the city – just walk 1km to the Bella Center metro station and you will be in town in a matter of minutes. You can also do like the locals and bike – rental bikes are to be found allover and the trip from the hostel to midtown is less than 20 minutes. Pick this one if you want to enjoy both the nature of Amager Fælled and the fantastic architecture of Ørestad. If you're in Copenhagen for a conference in the conference center Bella Center, you're actually only a few minutes walk from it, when staying at Danhostel. Looking for a higher standard, but want to stay near the Bella Center? Check the next hotel below..
---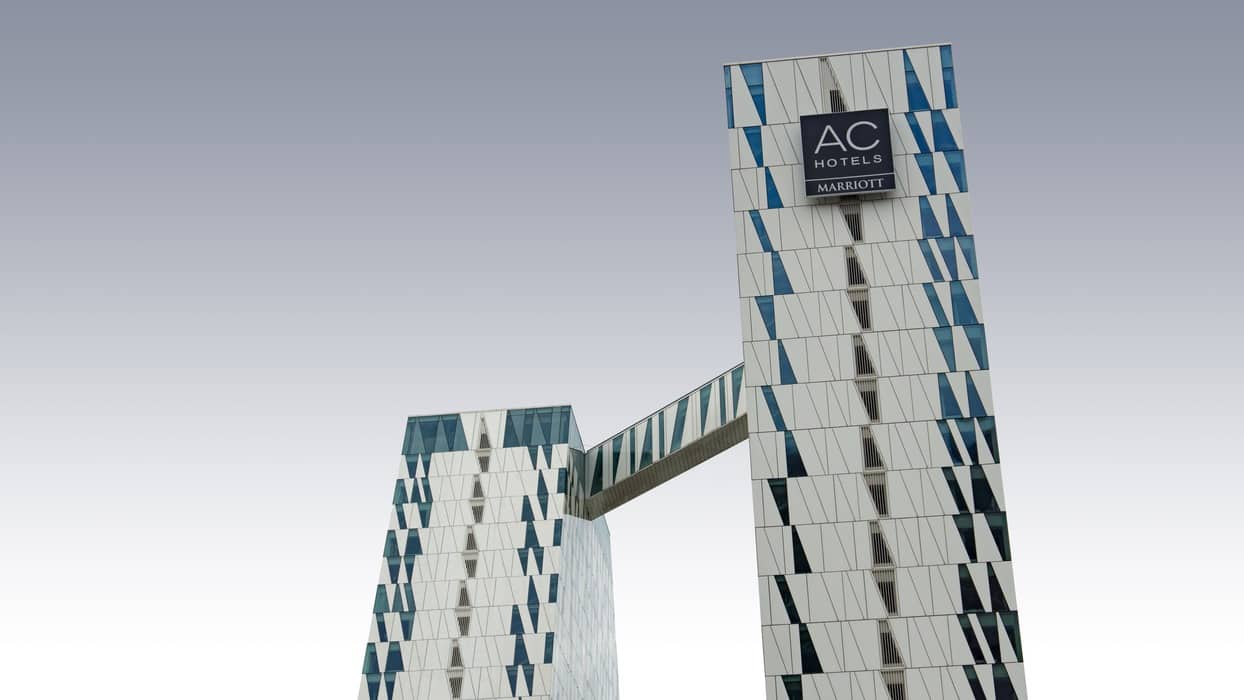 Hotel Bella Sky – award winning design and a fantastic view
AC Hotel Bella Sky Copenhagen – Center Boulevard 5, 2300 København S
This hotel is impressive architecture situated right next to Bella Center conference center. It's consisting of two towers which are leaning away from each-other and the crooked angles makes it out of this world design – you will have to see for yourself. The view from this 23-story building is stunning, overlooking Ørestad, the natural reserve Amager Fælled and Copenhagen skyline in the near distance. With its 814 rooms it is actually the largest hotel in Scandinavia and the price for one night starts at 950DKK if you book directly on their webpage.
---
Wondering how to get from the airport to Copenhagen?
In this post we tell you how! It's no hassle and really quick.