What is the weather like and what do you wear?
First of all, the weather:
Officially the winter months are December, January and February. These are also the coldest months, with a temperature around freezing.

Along with November, they are also the months with the least hours of sunshine, but surprisingly not the ones with the most precipitation. Between 36-65mm or 1,41-2,55in is what you can expect, where the average over the course of a year is 66mm or 2,59in.

My general perception of the Danish winter, is that it's long, grey and wet! But I'm probably being a bit pessimistic. Sometimes we will have a bit of snowfall and those days when it's cold and crisp and there's a clear blue sky, are really beautiful.
---
If you're wondering what to pack for your trip to Copenhagen this winter, here are a few essentials.
Boots
Coat
Raincoat
Hat or cap
Scarf
Gloves
– You need some boots. You will probably be walking around the city a lot and at some point, your feet will eventually get cold, if you're only wearing sneakers. Cold feet are so difficult to get warm again, so bring your best boots along with you, preferably ones with a thick sole of rubber and not a thin leather one, as they can't keep your feet from getting cold after a few hours.

– A thick and preferably long coat. One filled with down is probably best, but wool will also do the job. A coat that goes well below your waist will keep you warm for longer, than the shorter versions, but if that's all you got, wear a long wool sweater underneath, to make up for it.

– The Danish winter is usually more rain than snow, so bring a raincoat. If you plan to bike around in Copenhagen, bring a pair of waterproof trousers as well. Otherwise your pants will get wet in no time and more wet than you would think.

– A hat or cap to keep your head warm. One made of wool would be the best. Just like you don't want wet and cold feet, you need to keep your head and ears warm. There's a myth, that you lose a very high percentage of your body heat through your head. I don't know if that is true at all, but why challenge it?

– Scarf. Very few jackets or coats can be closed all the way up, so it covers your neck adequately. That's why most Danes, women and men, wear a scarf from when autumn sets in and all the way through spring. It's a very versatile accessory, since you can have it cover your neck and most of your face if it's cold and windy or you can just have it hanging around your neck, with an open jacket, if it's a somewhat warmer day.

– Gloves. Lastly gloves for those cold hands. You can just stick your hands in your pockets and keep them fairly warm, but if you plan on snapping a few photos or holding hands with your spouse, they will eventually get cold. You don't need those down filled mittens, just regular knitted cotton gloves will do the job, unless it's really cold of course – but it rarely is in Denmark.
---
How much daylight is there during winter?
In December there is the least daylight, bottoming at 7 hours. Sunrise at approx. 8.30AM and sundown at approx. 3.30PM. At the end of January, we're up to 8h30m of daylight, with sunrise at 8.05AM and sundown at 4.40PM. In February it really picks up and at the end of the month you have 10h50m of daylight, sunrise at 7AM and sundown at 5.45PM. Come on spring!
---
Can you see northern lights from Denmark?
Yes, if you're lucky. A few nights each year northern lights can be spotted from Denmark, so I wouldn't make it the main reason to visit Denmark. If coincidence has it, that the phenomenon falls on the night you're in Denmark, you also have to have a relative clear sky to be able spot it. Denmark is unfortunately not known for guaranteed clear skies during winter (or any time of the year as the matter of fact).

If both criteria are met, a good advice is to leave town and find a place where it's quite dark, and where you're able to look towards north (since this is usually the direction you would spot the northern lights from Denmark) and where you're able to see the horizon.
---
Best things to do during the winter
Indoors:
Museum – The David Collection
Winter jazz
Visiting Rosenborg Castle
Shopping in a 150-year-old department store
– Museum. Exploring fantastic art and ancient artifacts is of course a classic activity, especially when it's cold or raining outside. There are plenty of museums to choose from in Copenhagen, but an absolute crowd favorite is The David Collection

The museum has three permanent collections of Islamic art, European 18th century art and early modern Danish art. The museum is free to enter.

– Winter jazz. Every February, the whole month is filled with jazz concerts at different venues in Copenhagen (and all-over Denmark actually). Check the calendar to find your favorite.

– Rosenborg Castle. Denmark is famous for its fairy-tale castles and royal family. At the 400-year-old Rosenborg Castle you can get a feel of how the royalty lived, since this has housed the royal family until approx. 1710. Apart from the collections of art and porcelain, the crown jewels can also be seen here. These jewels are actually worn by the present Queen on special occasions.

– Shopping at the 150-year-old department store Magasin. Located at Kongens Nytorv (King's New Square) makes it really easy to pop in, if it's starts raining, on your walk through Copenhagen.

Here you should have plenty of possibility to do some shopping and maybe find a souvenir to bring home. Among plenty of international brands, there are also a lot of Danish brands, both in fashion and design. Go to the top floor for a bite to eat and finish of in the basement, with a piece of chocolate from Summerbird.
…and outdoors?
Outdoor hot tub with view
Ice skating
Winter market
Winter swimming
Shopping on "Strøget"
– Outdoor hut tub. How does sitting in a hot tub with 40C/104F warm water, with an air temperature around freezing point and watching the Copenhagen harbour front at the same time sound? Well just that is possible at CopenHot.

On the opposite side of the harbour, on Refshaleøen, where you can also find the street food market Reffen, several hot tubs and saunas are placed outside.

CopenHot cleans the seawater and heat it with firewood, so you can sit and relax, whilst enjoying the panoramic view of the Copenhagen skyline. They also have sailing hot tubs, where a skipper will sail you around in the harbour, with you sitting in the hot tub, sipping champagne. Not bad huh?
-Ice skating. Link: https://thebridgestreetkitchen.com/
If you cross the Inderhavnsbroen (the bike/pedestrian-bridge) and go to Christianshavn you can go ice-skating. It's open almost during the whole winter and it's free if you bring your own skates. Otherwise you can rent a pair for 50DKK/hour.

Surrounding the ice rink is a street kitchen, with several cuisine to indulge in. And right next to it, you can find the best Cortado I ever had at The Corner.
– Winter market. The winter market is an absolute favorite in Europe during the cold months. Winter or Christmas markets are also to be found in Copenhagen, mainly in December. The various locations vary from year to year, but you can almost be certain to find one at Kongens Nytorv (King's New Square). Here you will find the classic stands with Christmas ornaments, roasted almonds, Glögg (warm mulled wine) and knitwear. If you have never tried the Glögg, you should – it's really good. The recipes vary a lot, but expect some warm wine, mixed with fruit juice and plenty of spices, like cloves and cinnamon. Usually they put chopped almonds and raisins in as well. It's perfect for warming up those cold fingers, when you've been walking around the markets for a couple of hours.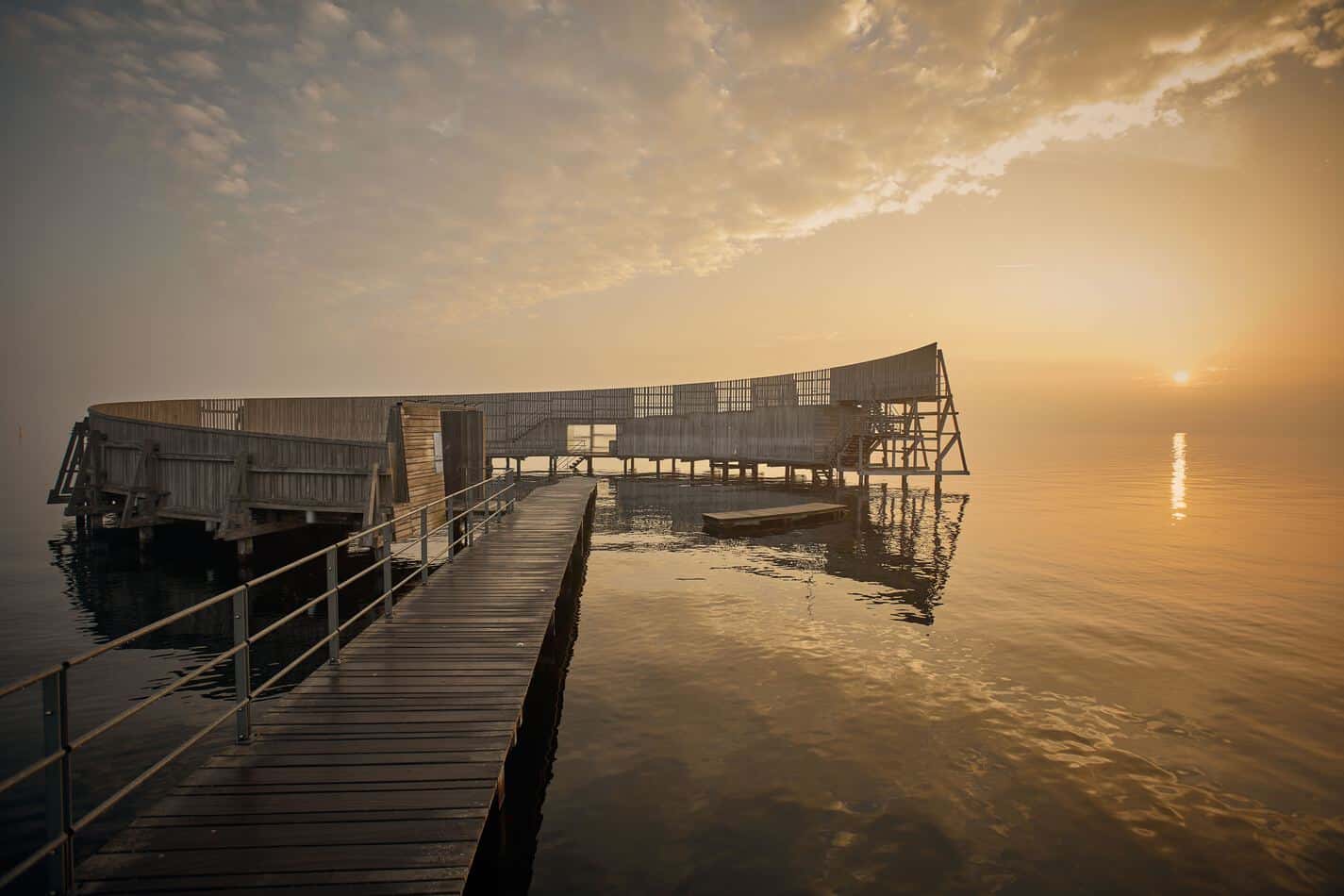 – Winter swimming is quite popular in Denmark and in Scandinavia in general. According to the Water Safe Municipality in Denmark, there are more than 25.000 organized winter swimmers, spread over 93 clubs in Denmark, not counting all of them who aren't a part of a club.

And why is it so popular to plunge into water, with temperatures ranging from very cold to ice-cold? Several studies imply that there are several health benefits, but it's hard to reach a finite conclusion on this subject.

I've tried it myself a couple of times and I quite liked it. The feeling, when you undress even though it's freezing and tiptoe to water, convince yourself to submerge your body in the water and then hurry up again and get wrapped in your towel, is very exhilarating.

You feel the blood rush through your body to warm up the limbs. I would definitely encourage people to try it, but it might not be for everybody. If you have a hard time getting the right temperature back in your body afterwards, it might not be for you.

Be sure to consult your doctor before any winter swimming and follow these general advices from the Water Safe Municipality:
Never swim alone
Check bathing conditions, and know your rescue equipment
Beware of ice on the stairways and bridges
Lower your body slowly in the water
Breathe slowly when in the water
Keep an eye on each-other
Stay close to a staircase or ladder
Never swim underneath the ice
– Shopping on the shopping-street Strøget. January is the month of sale. Everyone is out exchanging their Christmas presents to the stuff they actually wanted and buying all the stuff they didn't get. Prices are sometimes down 70% and depending on how you look at it, you can find some real bargains and save/spend a lot of money.

There are no particular shops to look for, since pretty much all of them are on sale in some extent in January – just take a walk down the main shopping street Strøget in Copenhagen and you will see all the "Udsalg" signs everywhere, which means SALE.
Winter wonderland in Tivoli Gardens
This is an absolute must if you visit Copenhagen during winter! Tivoli closes in the fall, but open again for shorter periods of time around Halloween, Christmas and a few weeks in January/February as well. The actual periods vary from year to year, so visit TivoliGardens.com to see if they are open, when you come.

In November every year and until New year, they reopen and it's one big winter wonderland decorated for Christmas. We don't usually have a lot of snow, if any at all, but Tivoli will still make it look like your somewhere in the mountains during winter. They go all in with plenty of Christmas lighting and decorations – it's very beautiful and quite breath-taking.
Winter cycling
Maybe you already know it – the Danes love to bike. Especially in Copenhagen the bike is the preferred means of transportation for a large part of the locals. It's fast, it's easy and you get some exercise when you're going from A to B.

But it's not only a thing we do during summer or when it's not raining. Some people might choose other means of transportation when it's pouring out, but for the most part people bike all year round. And you don't need a special bike or tires with spikes on them. A regular bike will do, just take a few precautions and you're ready to go:

– If the roads are covered with ice or slush, then you don't want your tires pumped to the maximum allowed pressure. Let a bit of air out, for better grip.

– If you're using slicks during the summer, you might want to change to a tire with a bit more pattern, again for more grip.

-Since the sun rises fairly late and sets equally early during winter, bicycle-lights are essential. Either bring them in your bag or just have them mounted permanently, so you won't get "surprised" in the afternoon, when the sun sets.

The police sometimes do "raids", where they stop all cyclists and make sure they have lights on their bikes. If you're lucky, you can get away with a warning, but otherwise you will face a fine of 700DKK/100USD/95EUR. The lights have to be on from sundown to sunup or if the visibility is low, for example due to fog.

– Get some oil for the bicycle lock, so it doesn't freeze up, when the temperature drops. Place your bike some place dry (and warmer than freezing point) and let any possible water in the lock evaporate. Then use the oil and grease all moveable parts, plus inside where you place the key.

– Clothing-wise you just need some good gloves, a scarf or buff to cover your neck/mouth, a cap under your bicycle helmet (you do use one, don't you?!) and you're pretty well covered. If it's snowing or raining you might want some outerwear that will keep you dry, otherwise you will be soaking from just a short ride.

-Finally, keep your bike well maintained. This advice is of course applicable all year round, but especially during the tough weather you can be exposed to during winter.