So, you're in Copenhagen for either leisure or business, but don't want to skip a run. Or maybe you're wondering where you can go kayaking or play a round of golf? Don't worry – we've got you covered!
Copenhagen is a great city for running! Plenty of running routes, that will take you past historic sites and let you enjoy the scenery. We have parks, lakes, forests and seaside, so there's no excuse to let the running shoes stay at home!
Go out and join all the locals.
Running is a very popular sport in Denmark. According to this report from the 2015 MOVE Congress, 31% of the Danish population over 15-years of age, run on a regular basis. And that's because it's such an easy sport to approach, since all you need, is practically a pair of running shoes. Put on your shoes and go run!

If you need a bit of inspiration for your run, we've collected some of our favorite runs in Copenhagen below for you to explore. All of the routes are very easy to extend, for example by running an extra lap or two, if you want to run farther.

Should you get thirsty during your run and don't want to bring a water bottle or maybe it's just empty – fear not… in this article we wrote, we have a interactive map that shows all the public water fountains in Copenhagen. Find the one closest to you for lovely clean water!
---
Where to run
The Lakes – 6.3km/3.9mi
The Lakes or "Søerne" in Danish are 3 rectangular lakes on the outskirts of Inner Copenhagen. Originally, they were a part of a stream, but in the need of water for watermills, they were dammed and with time the lakes were created. They have also functioned as water reservoirs (ended in 1959) and as a part of the city's defense.

Several bridges cross the lakes, so this makes it very easy to prolong or shorten your run, should you feel like it. You will most probably join a lot of other runners, since this is one of the most popular places to run in Copenhagen, due to its accessibility and scenery.

You will have to wait for a green light when crossing some of the streets, but two of the bridges on the western side have a tunnel passing below for pedestrians/bikes, so that gives a total of 3.1km of uninterrupted running, which isn't bad when running in the city.

Start: no particular starting point
Type: urban and flat
Public transportation: easy access with both train, metro and busses
Click the name of the route below to get to the site MapMyRun. Here you can see detailed information on the run.
---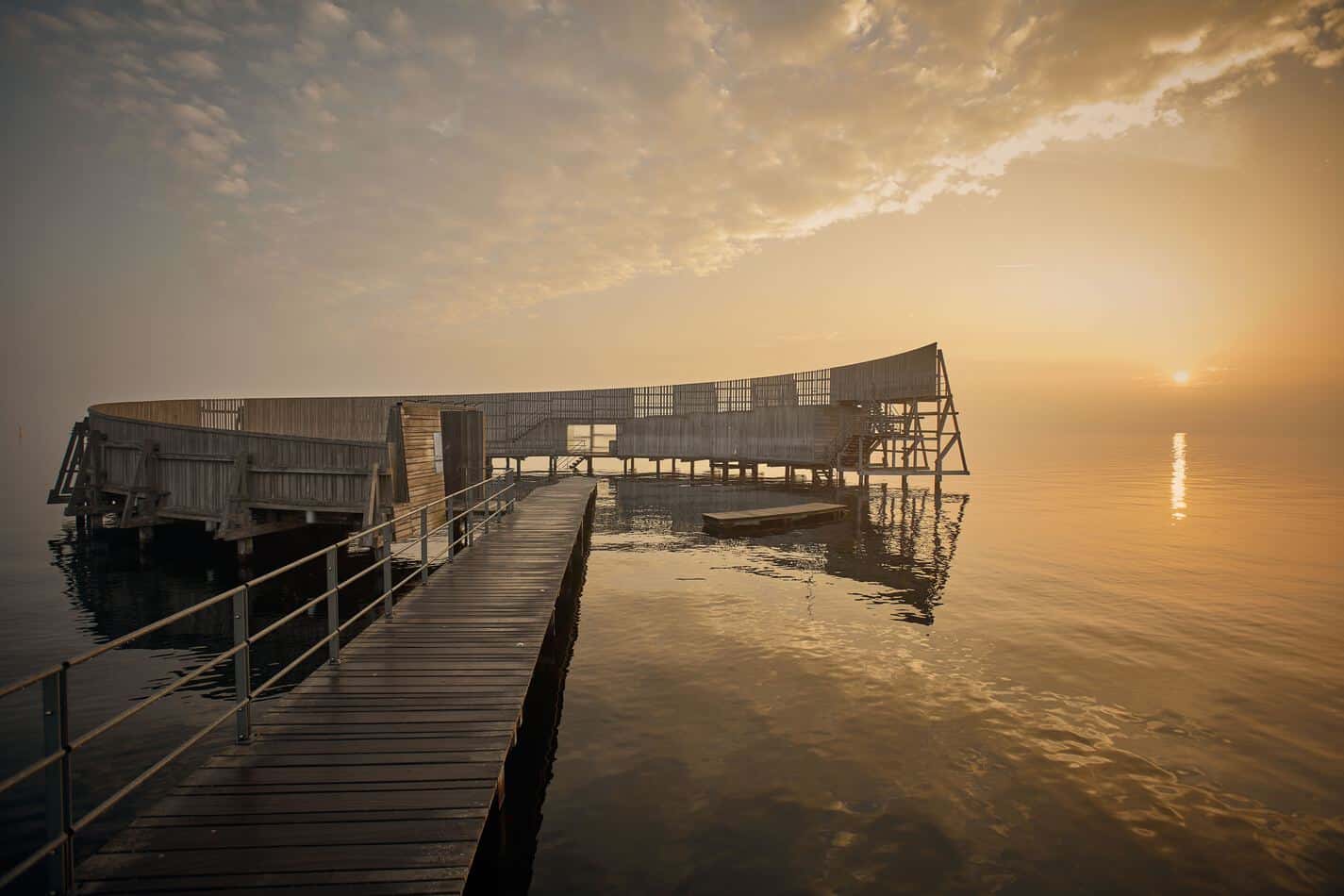 Amager Strandpark – 4.86km/3.0mi
On the coast of the island Amager, you can find Amager Strandpark, which translates to Amager Beach Park. It's the largest beach of Copenhagen and the one closest to city centre. Several metro-stations (Øresund, Amager Strand and Femøren) are close by, since the park runs parallel to the M2 line.

In 2005 a 2km long artificial island was created along the original beach, resulting in the modern beach park, with several kilometers of beaches and a lagoon.

This is a great place to run – completely uninterrupted. You can stretch the run to a little less than 5km if you run a round-trip along Amager Strandvej or you can just turn around when you get to the end of the park, if you want to stay in the actual beach park.
The path runs along the coastline, where it twists and winds in between the sand dunes. You will be joined by plenty of people out for a walk, roller-skating or skateboarding, since the beach park is full of life – at least in summertime. During a blowy winter day, it will probably only be you and a few dog-walkers.
Amager Strandpark has a lot of other activities, which you can read about later in this article.

Start: on Amager Strandvej, crossing on of the three bridges, depending on which direction you came from
Type: concrete, but on the beach and flat
Public transportation: as mentioned above easy access by metro and busses 77 + 78
Click the name of the route below to get to the site MapMyRun. Here you can see detailed information on the run.
---
Kastellet – 1.8km/1.1mi
North of Amalienborg Castle you will find the structure built to defend the castle and the city. Kastellet is the Danish word for citadel and this 5-star fortification was built in 1628 by the most famous Danish king Christian IV.
It still functions as a barrack to the Danish military, but is open to the public and includes three museums today.

The banks of this fortress are a popular place to run, since you can enjoy the view of the citadel, with its surrounding moat and overlooking the harbor of Copenhagen.

If you run on the actual banks which make up the 5-star formation, you will cover 1.8km. You can choose to run several laps or take it to the path on the outside of the moat, which is a 2.0km run. This will take you past the Gefion Fountain and The Little Mermaid.

Start: Kastellet is accessible from the north and south, where you have to cross the moat via the bridges, which both are suitable as starting points
Type: concrete/gravel and flat
Public transportation: close to Østerport train-station and metro-stops Østerport and Marmorkirken, when they open in the near future
Click the name of the route below to get to the site MapMyRun. Here you can see detailed information on the run.
---
Fælledparken – 4.5km/2.8mi
In the borough of Østerbro you will find Fælledparken, which is another public park, where it's great to run. Here are wide gravel paths under large old trees and plenty of opportunity to extend the 3.5km run along the perimeter, with more laps or zigzagging the park on the paths that cover it.

The park is just next to the national stadium Telia Parken, where the Danish soccer team plays their home games and as well as the team F.C. Copenhagen. It is also frequently used for large concerts and holds up to 40000 people.

Fælledparken is used for the annual large community run DHL-stafet, where a 5km relay is done by the workforce at small and big businesses, where more than 100000 runners participate.

Start: no particular starting point and plenty of entraces to the park
Type: gravel and flat
Public transportation: easy accessible with bus
Click the name of the route below to get to the site MapMyRun. Here you can see detailed information on the run.
---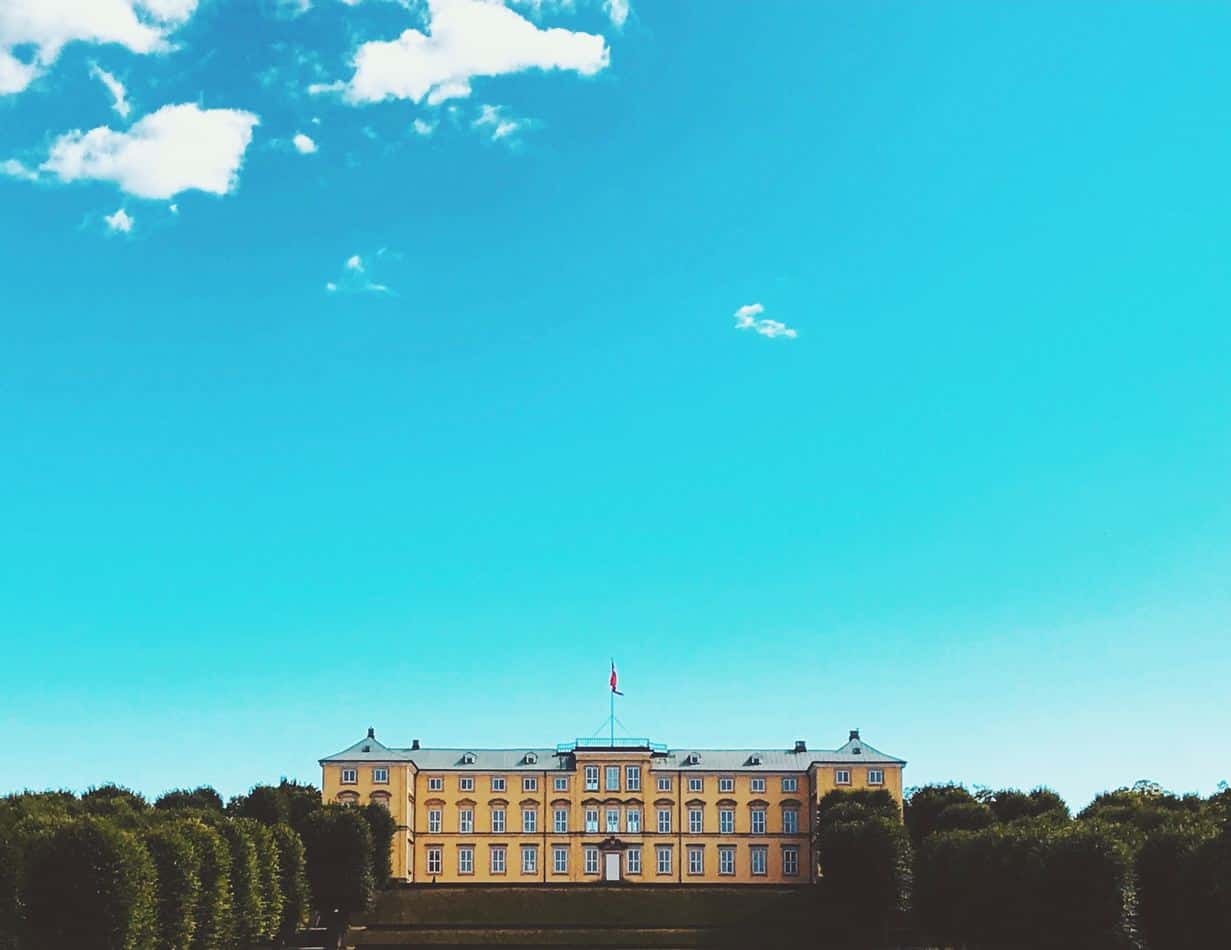 Frederiksberg Have – 4.0km/2.5mi
Frederiksberg Garden ("Have" is the Danish word for garden) has been a favored destination for the population of Copenhagen since the garden was opened to the public in 1852. This is when Queen Marie Sohpie Frederikke died and became the last royalty residing in the Frederiksberg Palace, which the garden belongs to. Since then the palace was turned in to the Officers Academy.

A run covering almost all of the paths will end up at 4.0km and take you past the adjacent Copenhagen Zoo, where you can get a great view at the elephant house. You can easily prolong the run, by adding laps or you can cross the road (Roskildevej) in front of the palace and add another 4km by running in Søndermarken, another park belonging to the palace.

Start: access the park via Andebakkesti, Frederiksberg Allé, Roskildevej or Søndre Fasanvej and start from there
Type: concrete/gravel and flat
Public transportation: Frederiksberg metro-stop is close by and it's also accessible by bus
Click the name of the route below to get to the site MapMyRun. Here you can see detailed information on the run.
---
Amager Fælled – 7.57km/4.7mi
With its 2.3ha/56.8acres and less than 3km (as the crow flies) from city centre, this preserved open space is really unique for a city of the size of Copenhagen.

There are a lot of entrances to the area, so just take your pick. The area consists of a web of gravel roads in no particular order and plenty of fields where you can spot cows and even wild deer. You can stretch your run as far as 10km/6.2mi, without running the same place twice.

Be sure to take a look at a map before you go or at least bring your phone, because you could actually get lost, since the roads look a lot alike. There are signs to be found here and there though.

If you're up for a challenge there's a hill, with some adjacent smaller ones in the southern part of the area, which you can sprint up. The unobstructed view is quite good from the largest hill.

Start: the natural park can be accessed from numerous directions
Type: gravel and flat, apart from the few optional hills
Public transportation: metro-line M1 runs along the eastern border, where several stops are suitable
Click the name of the route below to get to the site MapMyRun. Here you can see detailed information on the run.
---
Kalvebod Fælled – 8.29/5.15mi
Should you prefer a longer run and one where you a bit more alone, you can run on Kalvebod Fællled. It is next to Amager Fælled, but farther away from city centre. The last stop on metro line M1 is Vestamager and you could start your run here.

Kalvebod Fælled is much more rural with its marsh land and fields, where there are plenty cows, sheep and an abundance of bird-life. There are some gravel and paved paths, which will take you through a bit forest and over the often windblown fields. There isn't much to shield you from the wind when you're traversing the fields, so this can be a challenge on windy days.

You can easily extend the run by adding some distance on the adjacent golf course. This will add up to 11.81km/7.33mi – click here for the map. The paths on the golf course are public, so don't worry, you won't be doing anything wrong, as long as you don't pick up any golf balls!
Feel like a round of golf? The golf course has a 18 hole championship course and 9 hole pay-and-play – read on further down in the post.

Start: at the famous building 8 House or at the western end of Arne Jacobsen Allé
Type: gravel/paved and flat, apart from crossing to freeway, if you decide to include that in your run
Public transportation: metro-stop Vestamager if you want to start at the 8 House. If including any part of the golf course, Ørestad or Bella Center are your choice
Click the name of the route below to get to the site MapMyRun. Here you can see detailed information on the run.
---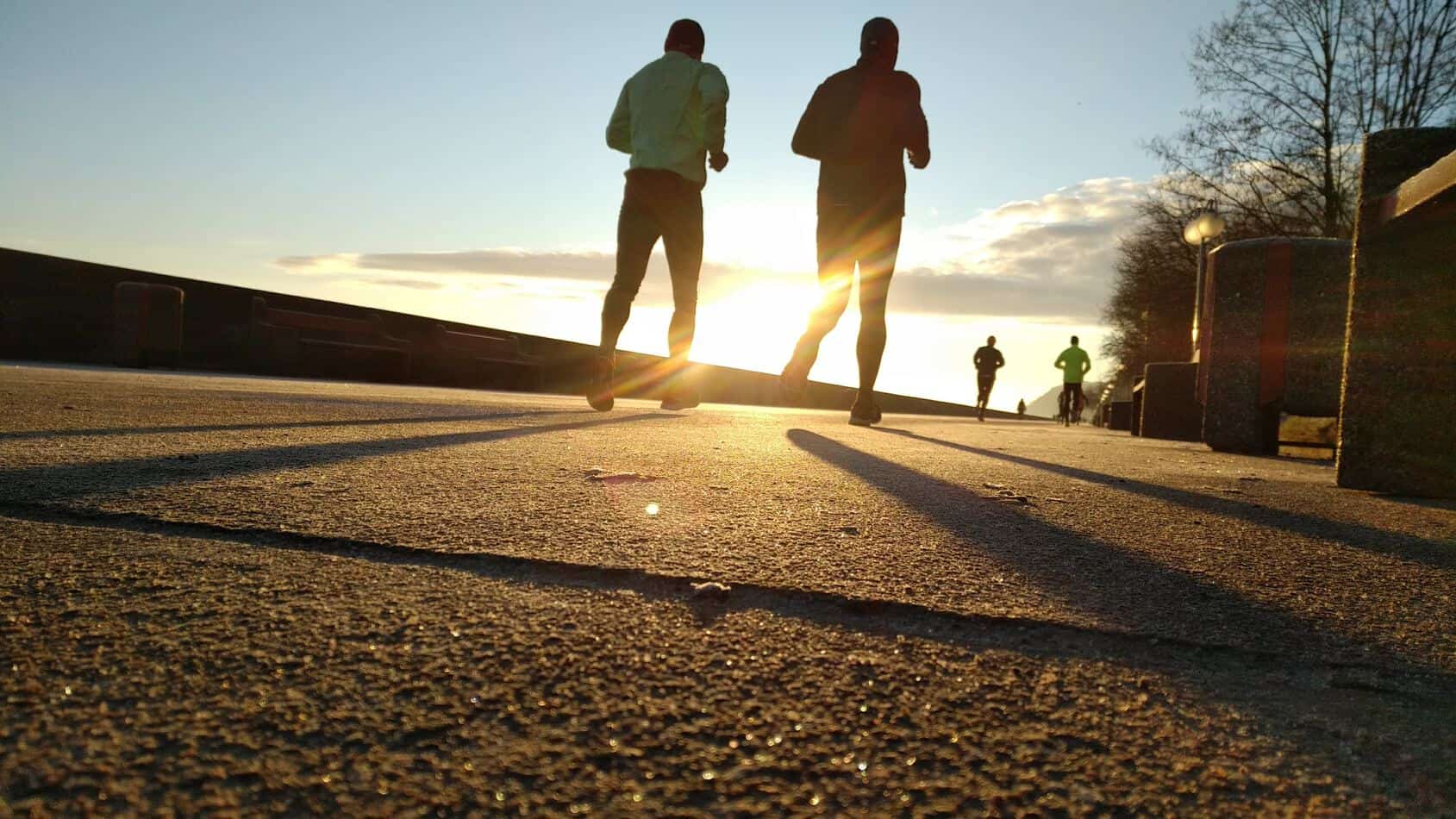 Tourist on the run
Have you ever considered joining a guided running tour? At Go Running Tours you will be joined by a local guide and at your own pace shown around the city of Copenhagen. This way you will be shown historical landmarks and see interesting parts of town, accompanied with small anecdotes from your personal guide.
---
Running shops in Copenhagen
Need a new pair of socks or did you forget your shoes? There are plenty of shops that can help you out. Here are a few shops dedicated for running, where they know what they are talking about and can provide excellent service.

Marathon Sport
Åboulevard 1, 1635 København V
Østerbrogade 19, 2100 København Ø
This shop has been around for 25 years and is located right on the route "The Lakes" mentioned above.

Løberen
Nørre Farimagsgade 65, 1364 København K
This chain of running shops was also started more than 25 years ago and also quite close to the lakes actually.
---
Other activities
If you're not into running, there are plenty of other physical activities you can enjoy, as you can read below.
Golf
As mentioned earlier Copenhagen actually has golf course and it's less than 5km from city centre!
Golf course architect Ron Kirby has designed the course, which has hosted the European Challenge Tour twice. It has a 18-hole championship course and a 9-hole pay-and-play course. Go to Royal Golf Club to book you tee-time.
Kayaking
If you feel like paddling around the Copenhagen harbor and exploring the city from the water, there are several places to rent a kayak and even get a training session, should you need it.
Kayakhotellet is located both at Amager Strandpark and at Kalvebod Brygge (close to the Central Station – Hovedbanegården). Here you can rent kayaks, canoes, stand up paddle boards and windsurfing gear. They offer a wide range of courses and you can book them for a guided tour as-well. Their website is only in Danish, but you can find their addresses and telephone-number at the bottom of the page.
Kayak Republic is located really central, just when you pass Knippelsbro, opposite Børsen. Besides being a kayak rental place, it's also a bar/restaurant, situated right next to the water in the canal. You can get a good view of it, when standing on the O2, where it passes under Knippelsbro.
Climbing
On Refshaleøen you can challenge yourself at Blocs & Walls. Here you can do some indoor rock-climbing on artificial walls – either with a top-rope or bouldering without rope. The price for a day-pass is 130DKK and you can rent climbing shoes and other necessary gear there as-well.
You have the food market Reffen just around the corner, if you're hungry after all that climbing.
Gym
So what do you do, if your hotel doesn't have a gym you can use? The chain of gyms Fitness World offers day-passes at 49DKK, so no excuses for skipping a workout! The link will take you to a Danish page, but you can use the map to find the Fitness World nearest you.
Recent Posts