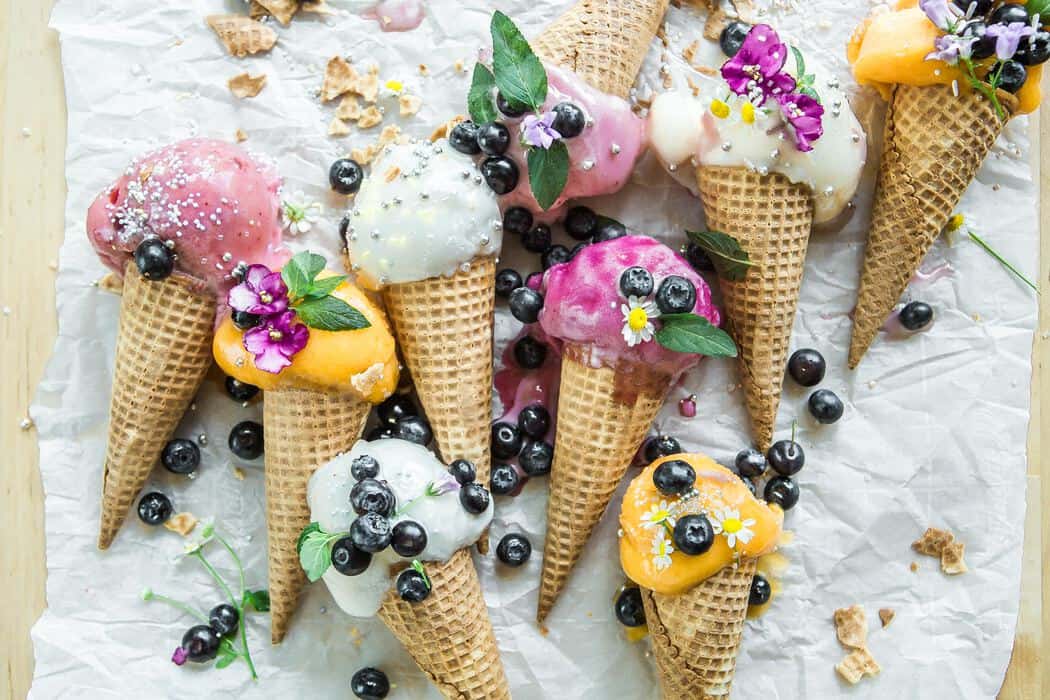 Ice cream! You need it to cool down on warm summer days. You need it when celebrating something or when you're out for a walk. You need it when you're down or when on vacation. Basically there's always a time for ice cream, so here's our recommendations for some of the best ice cream Copenhagen has to offer.
---
Rued Langgards Vej 6E, 2300 København S

Opening hours:
Mon – Sat: 9:00 – 23:00
Sun: 10:00 – 23:00
Ismageriet is probably one of the most appraised ice-cream parlors in Copenhagen. It has appeared numerous times on "best ice-cream"-lists and people actually drive across town to go here. On a sunny and warm day, you can easily find 50 people sitting outside, enjoying their ice-cream.

But don't worry, on peak hours, you won't wait in line too long, since their new premises are big enough to handle the number of customers and the staff is very efficient. And there is still time to decide which flavor to get, when your turn comes around.

Can't decide? Ask for a small taste sample, to see which one(s) you like the most. The staff are ready with small disposable spoons in their aprons, at your request!
All their ice creams are packed with flavor, so you can really taste all the ingredients.
Vegan: no vegan choices
Lactose free: all sorbets are lactose free
Take-away: 0.75L., 1.0L., 1.5L. or 2.0L. containers
How to get there:
Ismageriet is at 600m/0.37mi situated closest to DR Byen metro-station (on line M1), but if you're traveling from the city centre, the Islands Brygge station is the stop prior to DR Byen and with 650m/0.4mi to Ismageriet, it's the faster choice. If you already on the other line (M2), Amagerbro at 900m/0.56mi is the stop the get off at. The bus line 33 stops close by.
---
Ørestads Boulevard 61B, 2300 København S.

Opening hours:
Mon: 11:00 – 18:00
Tue – Sun: 9:00 – 20:00
If you find yourself in the neighbourhood Ørestad, Moo-Moo is the place to go. There are 3 seats on bar-stools inside and plenty of room by the canal, to be seated outside the shop. Plus, you have the recreational area Byparken just on the other side of the street, if you want to sit on the grass or let the kids enjoy the playground(s). Speaking of kids, Moo Moo has a kids' favorite this summer – unicorn ice cream. It's made of pulverized bubble gum and has gold dust, unicorn sprinkles and multicolored marshmallows on top!
Vegan: 18 flavors + the choice of vegan cones
Lactose free: same 18 flavors
Take-away: 0.5L., 1.0L. or 2.0L. containers
How to get there:
Moo Moo Bar is right between the two metro stops Ørestad and Bella Center, so choose either one and it's a 7-minute walk from there.
---
Markmandsgade 1, 2300 København S

Opening hours:
Mon – Sun: 9:00 – 17:30
This little ice cream shop on Amager is really into pure and intense flavors, with as few ingredients as possible. So, their vanilla flavor taste of nothing but vanilla and milk.
Their in-house production is only done in small batches and they never have more than 8 flavors to choose from. But the ones they do offer are of high quality. They also have great coffee and pastries, so you can end up hanging around for a long time.
Vegan: occasionally
Lactose free: occasionally
Take-away: the have prepacked 450ml containers
How to get there:
Get off at Christianshavn metro-station and it's a 650m/0.4mi walk. Or take on of the bus lines 2A, 37, 77 or 78.
---
Rosenvængets Allé 7C, 2100 København Ø
Tullinsgade 25, 1618 København V

Mon – Fri: 12:00 – 21:00
Sat – Sun: 11:00 – 21:00
This is the best ice cream according to founder of Noma, René Redzepi, as he says in The Economist.
A part from the more traditional flavors, they try to challenge our taste buds a bit. You may find one with jack-fruit or tamarind or aloe vera/pomegranate combo. Redzepi claims they make the best pistachio ice cream in town – care to find out?
By the way, they also make their own cones on location.
Vegan: all sorbets and cones
Lactose free: all sorbets and cones
Take-away: 0.50L., 1.0L. or 1.5L. containers
How to get there:
They have two shops.
Rosenvængets Allé is 1.1km/0.68mi from train station Østerport. Bus lines 1A and 14 stop close by.
Tullinsgade is just next to Værnedamsvej, which some call it Copenhagen's Paris – see for yourself. The closest train-station is Vesterport (1.0km/0.62mi) and the closest metro-station is Forum (1.2km/0.74mi), while Copenhagen Central (Hovedbanegården) is a 1.3km/0.80mi walk. Bus lines 9A, 31, 71 + 26 stop close by.
---
Skydebanegade 3, 1709 København V
Rantzausgade 56, 2200 København N
Christianshavns Kanal 2, 1406 København K

Opening hours vary from shop to shop and time of year, so click on their name above to access their site and check for yourself.
Sicilian ice cream! With plenty of ingredients and recipes from Sicily. Why not try to the "Suppa Inglese", a classic from Palermo or the "Blood Orange" with Arancia Rossa di Sicilia. They strive to serve organic ice creams, but not all ingredients are certified organic. At least 17 of their flavors are always completely organic.
Vegan: all sorbets
Lactose free: all sorbets
Take-away: 0.50L. or 1.0L. containers
How to get there:
Siciliansk Is are to be found three places.
650m/0.4mi from the train-station Dybbelsbro you will find the one in Skydebanegade. Bus lines 10 and 14 stop nearby.
Frederiksberg metro-station is 1.4km/0.86mi from Rantzausgade, while bus lines 12 and 66 stop much closer by. The last one at Christianshavns Kanal is only a 6-minute walk from Christianshavn metro-station, where bus lines 2A, 9A, 37 and 350S stop as well.
---
One more scoop!
That were just some of our recommendations. There are plenty of really good ice cream shops allover Copenhagen, that all fight for our attention on a warm summer day. Below are few more places worth a visit.

Paradis
A chain of ice cream shops, with almost 20 bars in Copenhagen alone.

ISTID
The name translates both as "ice age" and "time for ice cream". They use liquid nitrogen to freeze their ice cream and this is done in front of the customer.

Nicecream
Nicecream are all about vegan ice cream and sustainability. They only use coconut milk.

Sunday Munday
They serve all vegan bubble waffles with delicious toppings, that look amazing.

Kødbyens IS
These popsicles are produced in the old Meatpacking District (Kødbyen) and sold in various shops. Click the link to find a vendor.

Café Det Vide Hus
As mentioned in our previous post on the best places for coffee, Café Det Vide Hus make really good popsicles, named after superheroes and action stars. They don't have a webpage or Instagram, so the link is for their Facebook-page, but they don't seem to update it.

MUNCHIES
Another bubble waffle place, that make mouthwatering ice cream, that are very Instagram-friendly.
---
Where is your favorite place to go for ice cream? Let us know in the comments below. We might add it to the list.