Refshalevej 96, 1432 København K
If you want to skip straight to the pictures and comments on the food, feel free to quick jump.
My wife and I were so lucky to have booked a table for the forest and game season at Noma. And we were going to try something new (apart from the food) – we had booked two seats at the shared table. So instead of sitting at our own table, just the two of us, we were seated at a 20 people large table, with people we've never met before, from allover the world. We didn't really know what to expect.

I had actually been to Noma some 14 years prior. This was before any Michelin stars and number one rankings. My former colleague asked if I wanted to go to this upcoming restaurant and I thought why not? My interest in food had just started and Noma was actually my very first experience with fine dining. I was blown away!

The skilled waiters, the fantastic wines and of course the food. Back then I really had a strong aversion towards mushrooms. I didn't like the texture or the taste at all. But that changed that evening at Noma. They served a mushroom stew or something like that and I loved it and finished the whole thing. Since then I have come to like mushrooms of all sorts and use them in my own cooking at home. That was a real revelation. Thank you Noma!

It's been around 14 years since my last visit to Noma (when it was at its first location on Christianshavn) and couldn't help but smile, when I once again was served a mushroom ragout and once again was it so delicious.

As mentioned, we were to be seated at the shared table, so when we arrived on our bikes (we live in Copenhagen, so why not bike there?), two employees of Noma were standing outside in the rain (under a parasol), waiting for the guests to arrive. While we were locking our bikes, they asked for the name used for the reservation and since we were a part of the shared table, they ushered us inside a large greenhouse.

Here other guests were waiting on benches covered by reindeer skin, talking to each-other and sipping on the herbal tea we were offered. It was raining and a bit cold outside, since it was the middle of November, but they had a closed fireplace heating up the whole thing and there was a really nice ambiance.

We were surrounded by fresh herbs and other greens, since it was a green house, but on the shelves you could also find several of those jars used for preserving species and right behind us was a big jar containing an octopus. Fascinating to look at.

When the final guests had arrived, we walked the few steps to the main building, where all the chefs stopped working when we entered and greeted us, as we went "through" the kitchen to the room with our table. Quite an impressive experience. So attentive, made you feel very welcome.

The Noma 2.0 is situated on the old rampart that surrounds Copenhagen, which was used to defend the city from any potential aggressors. Here owner and head chef René Redzepi has created an urban farm alongside his Michelin restaurant.

The whole thing is designed by the award-winning Danish architect Bjarke Ingels. It consists of 11 separate, but connected buildings, where one is the original military warehouse, which was used by the Royal Danish Navy for storing mines. Now it houses Noma's test kitchen and staff kitchen among other things.

The core of it all is the central kitchen, were the chefs can oversee every part of the dining area. All the buildings are connected with glass covered paths, so that the guests and chefs can follow the evolving sunlight, weather changes and progress of seasons.

As mentioned, we had a reservation at the shared table, which is in a separate room from the other 40 dining guests, since the shared table is also used for private banquets.

It's one long spacious wooden table in a very pleasant room. Through the entrance, the main kitchen is only a few meters away. Two sides of the building were facing the outside "garden", so the lit-up trees were just outside the floor to ceiling windows. Being November in Denmark, it was dark before we arrived, so I didn't experience the room in daylight, but I wanted to move in anyway.

After the meal, we were offered a quick tour, where we were shown the barbecue stations, which are behind big glass panels, making it feel like it it was a part of the central kitchen, but leaving the smoke from the barbecue outside. Brilliant!

OK, time for some food! As mentioned, we were having the game and forest menu, this was back in November 2019 and unfortunately I haven't gotten around to writing this before January 2020, so I only have my pictures on my phone, my memory and the printed menu, which was handed out, to rely on. Stupid me, for not doing this, when it was fresh in my memory.

The positive thing about my procrastination is, that this way I realized, which dishes were absolutely fantastic and which were not so rememberable.

The negative was, that I forgot some of the components and actually had to check food blogs on the internet, to get some details on point.
---
Let's eat!
1st course: apple salad

What a way to start! A small nest on a plate, with an apple sitting in it.
Next photo shows the inside. They had basically cut the apple in two and carefully taken out large parts. These apple spheres, that was taken out, had been placed back in the apple with some juice and a beetle made of fruit leather, I believe it was called. So, it was edible.

Like so many things we were going to eat this evening, my guess is this was a very time consuming dish to prepare.
---
Next up was reindeer. I don't recall all the components, but there was some tongue and bone marrow and a pickled pine cone. Beneath the moss, was a broth to sip from the bowl. Very delicate all of it.
---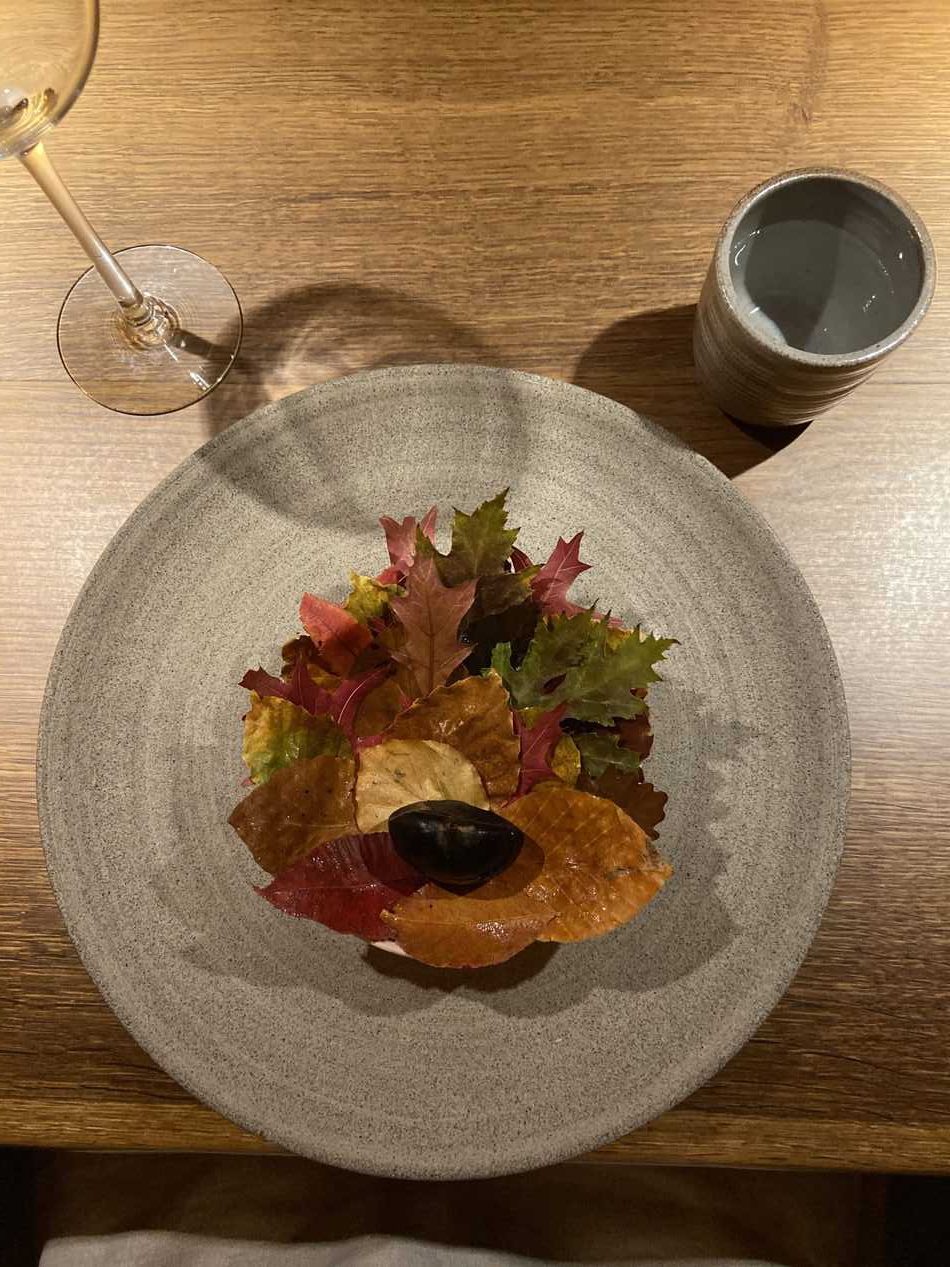 Pickled chestnut. Another beautiful, but very simple presentation, with a chestnut sitting on some colorful leaves (not to be eaten). Inside was a blackened chestnut in some broth – nice little bite.
---
The next dish was one of our favorites. Hazelnuts placed in an upright position (this must have taken a considerable amount of time to plate), whipped cream in the center, with caviar on top and with some kind of chestnut oil in the bottom. This was sooo good! I wish I could do this myself at home. I will remember this dish for a long time.
---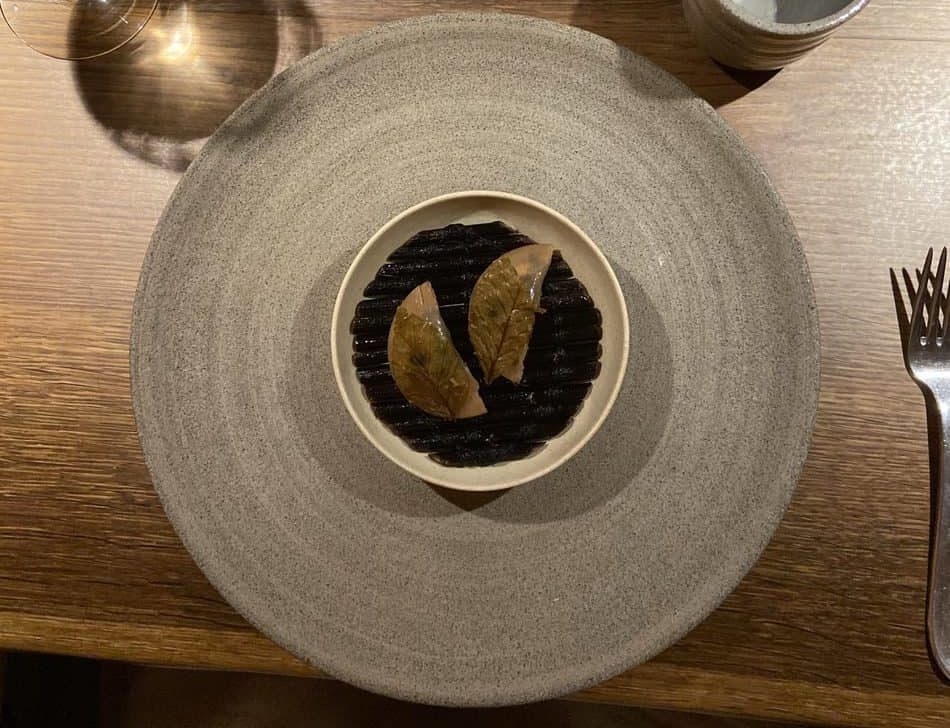 Here's a dish that didn't really make in impression on me. According to the menu, it's chestnut dumplings, but I can't recall anything about it. On to the next one!
---
This dish I didn't care for. It's pumpkin, plum and rosehip. It was very acidity and neither my wife nor I understood, why it was on the menu. But that's just our taste.
---
I kind of liked the next one, my wife not so much. Slightly stewed brain (if I remember (no pun intended) correctly, it was reindeer), with oregano, wrapped in very crunchy leaves. This was finger-food and was eaten as a soft taco – soft brain, very fragrant oregano and outer leaves so crunchy. Amazing combo – yum!
---
Dried tomatoes and strawberry with a bit of rabbit caramel. Yup! Rabbit caramel. Very intense flavor coming from so little – lovely chewy texture.
---
A nixtamalized potato with lard shavings from boar on top. Don't know what nixtamalized means!? Neither did we – it's when you soak and cook something in an alkaline liquid. Now you know.
---
And now for one of the more provocative servings! Both the photo above and the one below where served at the same time. You were served the duck's head as you can see. Where the brain used to be, a fried ball of duck brain could be found and when you lifted the beak, there was a tartar of duck's heart. Next to the head you can see the duck's tongue bone, which has been made into a kind of spoon, for you to use at cutlery. Brilliant!

The duck leg was also very special to look at – maybe not for people who are used to eating chickens feet, but for a Dane it is! On the bone was meat from the thigh, that was actually cooked on the bone.

All components were very good, but not very provocative for me. When we booked the table, I looked at some social media, to see what we would expect. I won't be doing that again, since this kind of ruined the effect of this serving. It would have had a much larger wow-effect on me, had I never seen the photos on social media beforehand.
---
We were only half way with the duck servings. On this little bed of pine lay some smoked duck breast. Very tasty.
Lastly a pickled partridge egg, which I neglected to capture a photo of.
---
Then followed one the highlights for me. A ragout of wild mushrooms, with some broth if I remember correctly. So much taste, so simple – I wish I could replicate this dish at home. This was kid of full circle for me, in regards of my first visit.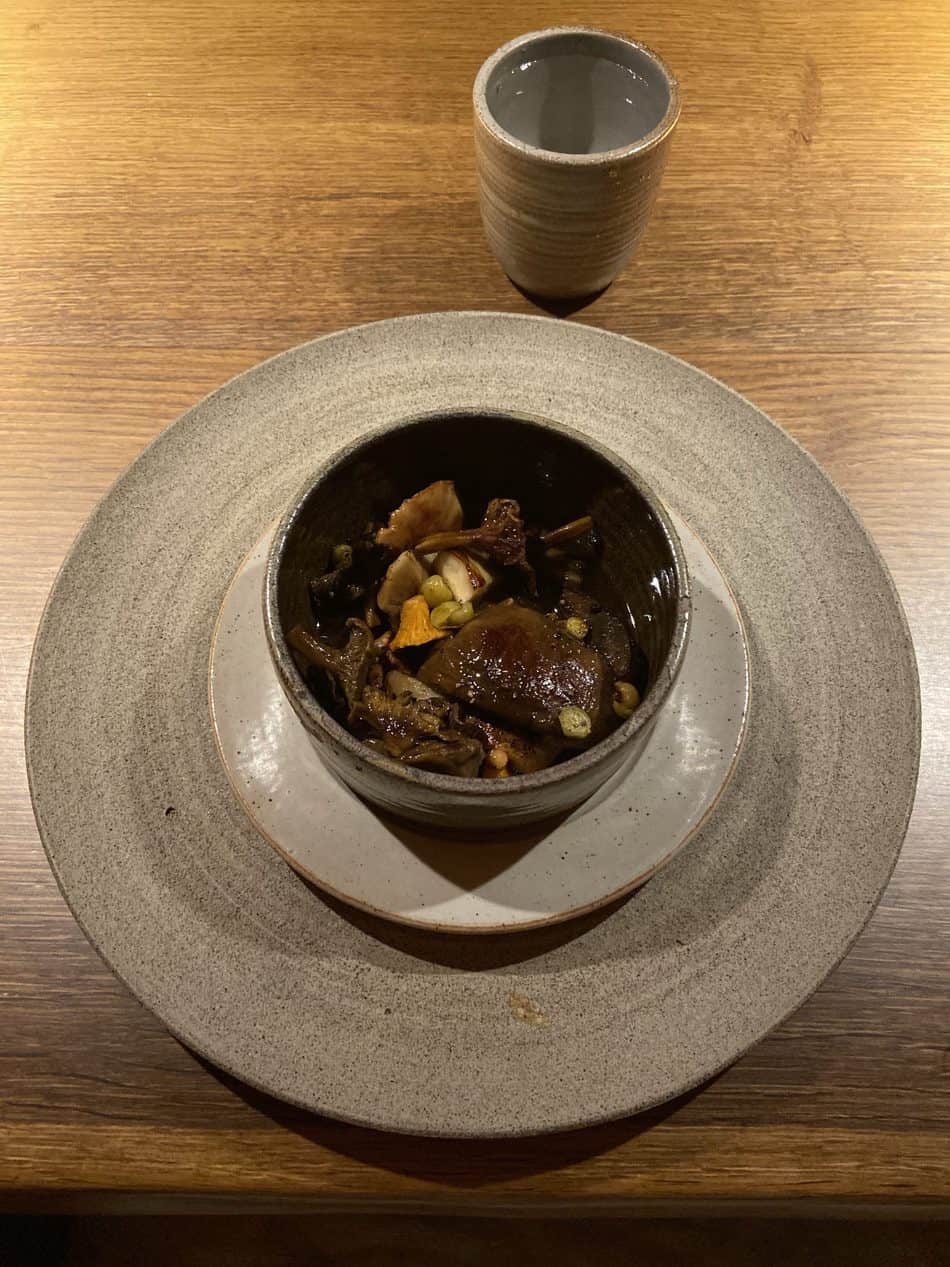 ---
That concluded the "main courses", now it was dessert time. Dessert at really good restaurants typically surprise me, due to my limited imagination. I always expect something really sweet, but a lot of the time it's only sweet in a very subtle way and so many other flavors are at play. The desserts tend to be the ones I remember for a long time after and so will this one.

Cardamom mousse surrounded by the most amazing, almost black and thick sauce made of poppy seed and liquorice root. Just wow! I can still recall the taste in my mouth.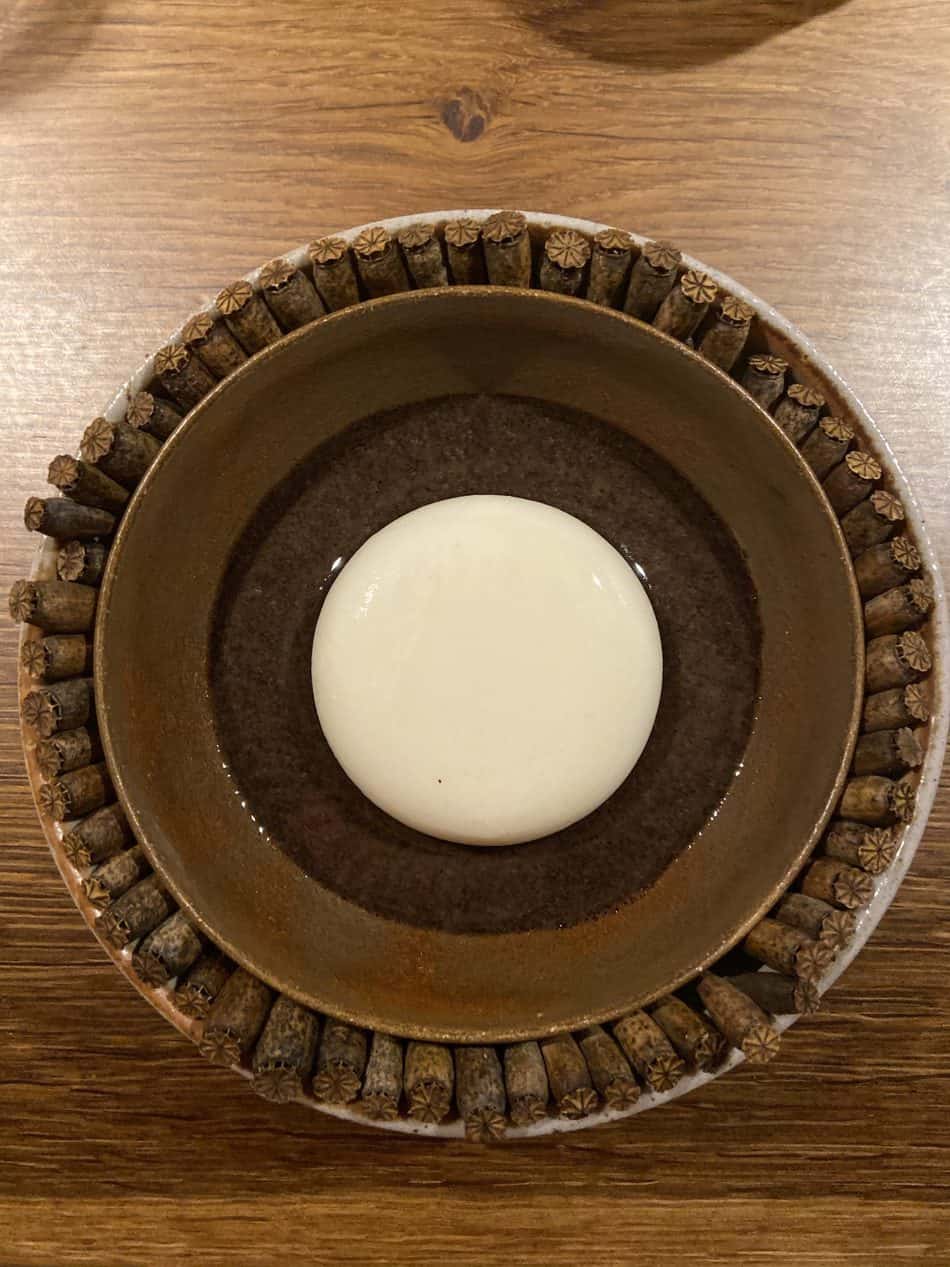 ---
Next up a less surprising and impressive dessert, consisting of grilled waffles, with whipped cloudberry cream. Don't get me wrong – it was delicious! The guys sitting on the opposite side of the table asked for another serving, that's how good it was. It just seemed a bit ordinary following the first dessert, that was one of the best servings I ever had.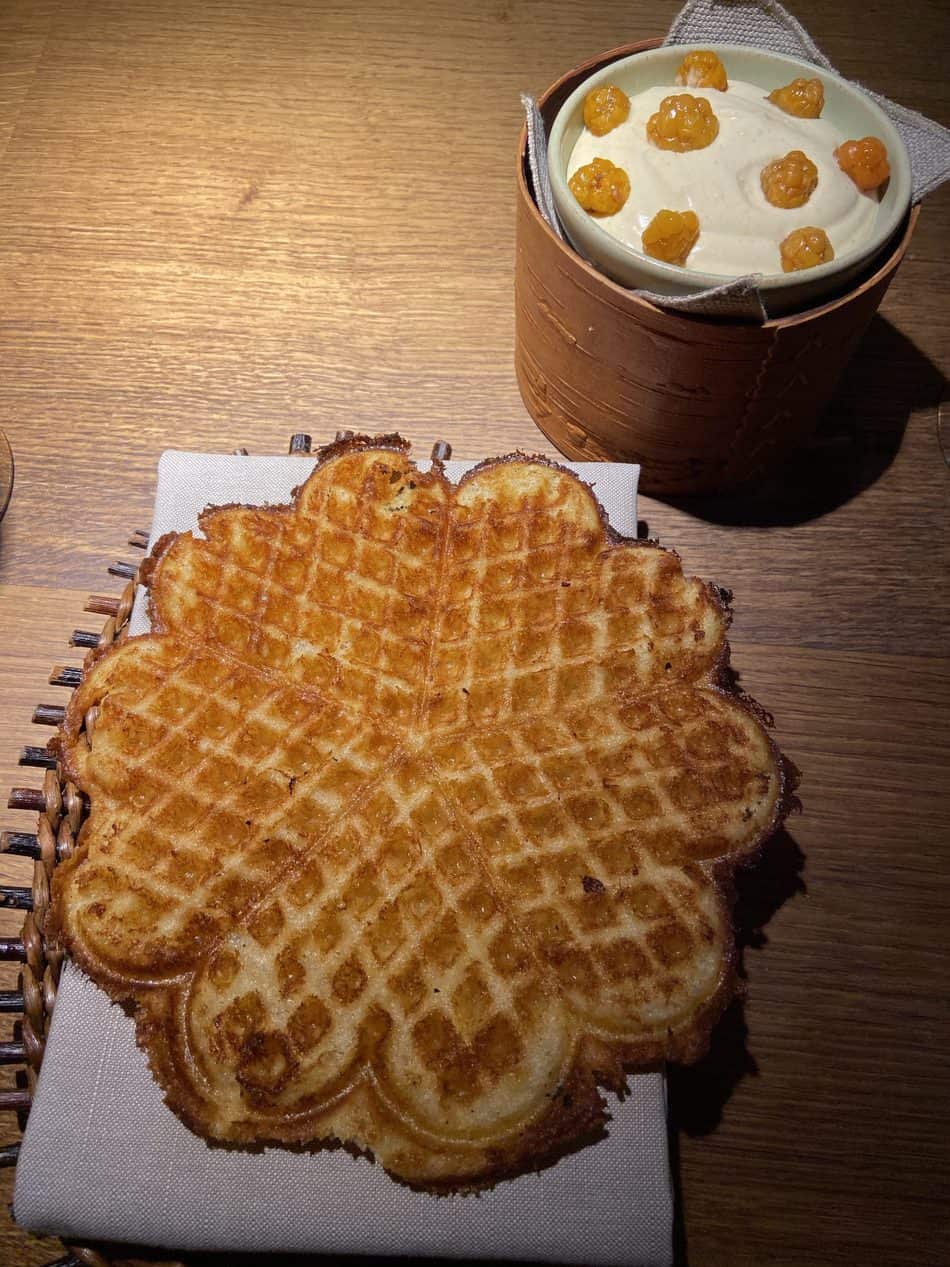 ---
The last serving was not ordinary at all and was the perfect finish to this extraordinary meal. Two pine-cones (the green ones were to be eaten, rest was just for show). They were caramels and soft and chewy at the same time, like caramel is. They put a smile om my face.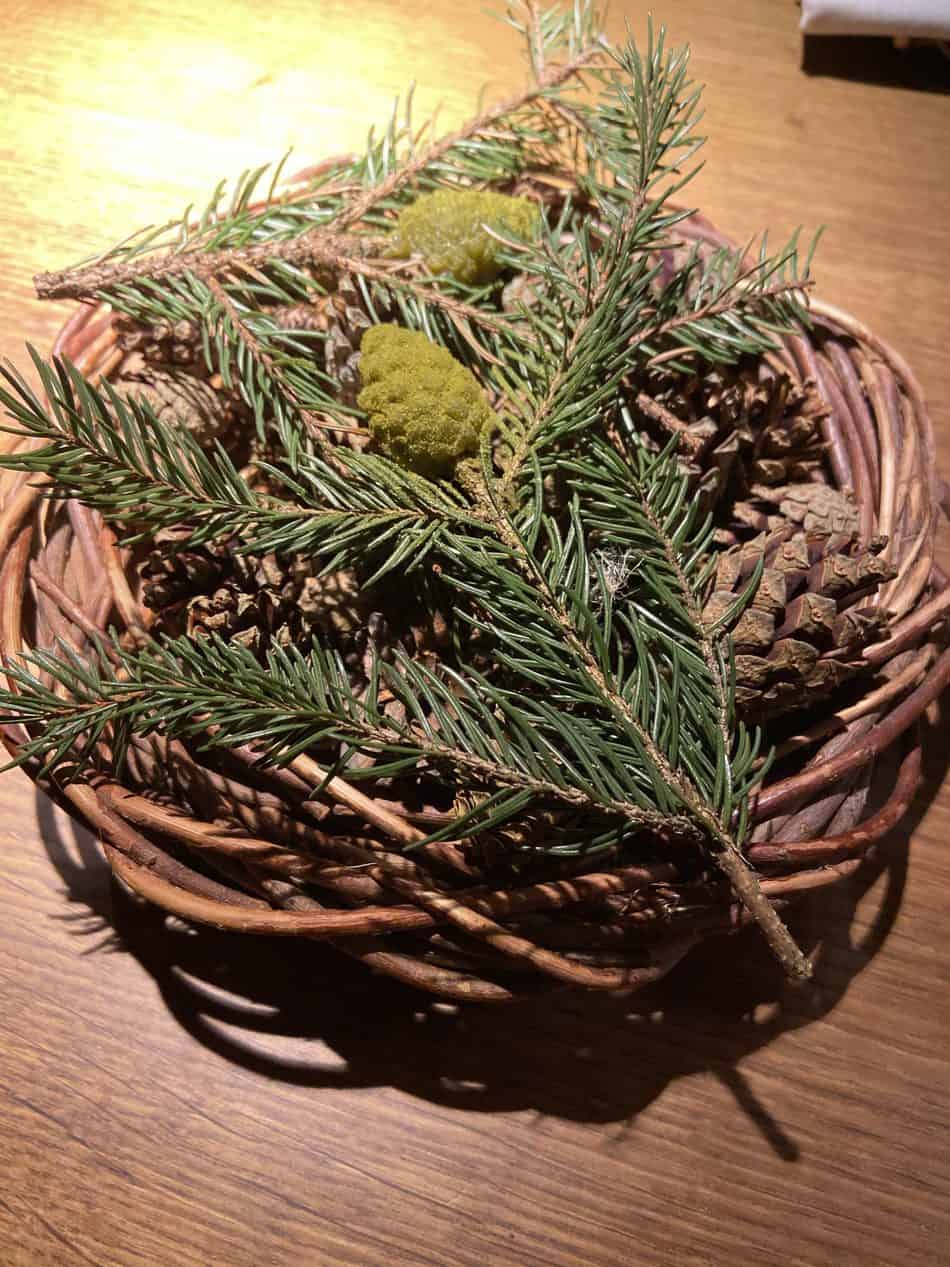 ---
Conclusion
First of all if you're wondering, we settled for one wine pairing and one juice pairing. Both were really good and we liked that we could try both. This was the first time, that any of us had a juice pairing and it was quite an eyeopener. It will not be the last time, we choose that combo.

For the shared table experience, I was pleasantly surprised. We chatted a bit with the people sitting across and next to us and we had a good time. It was not the same as having a romantic dinner with your spouse, but that didn't matter in this setting. I wouldn't hesitate to book at a shared table another time, if those are the only seats left.

The food was, I feel like saying of course, nothing short of fantastic! There might have been a few servings, that one or both of us didn't understand or didn't make an impression on us, but all in all the sheer quality of the servings was spectacular. Several of the dishes will remain in our memory for quite a while and that's an accomplishment.

Service-wise I was once again blown away by the level they're showing of at Noma! Personally I think of it as an art, they way they are able to be very present, friendly and informative, but at the same time, they aren't intrusive in any way, which is some balancing act in my opinion.

If you lucky enough to have a reservation at Noma, you're in for a treat. We're very lucky to have Noma in Denmark – not just for the food the restaurant serves, but for what effect it has had on the Danish restaurant scene, Danish gastronomy and Danish tourism in general. Bravo!