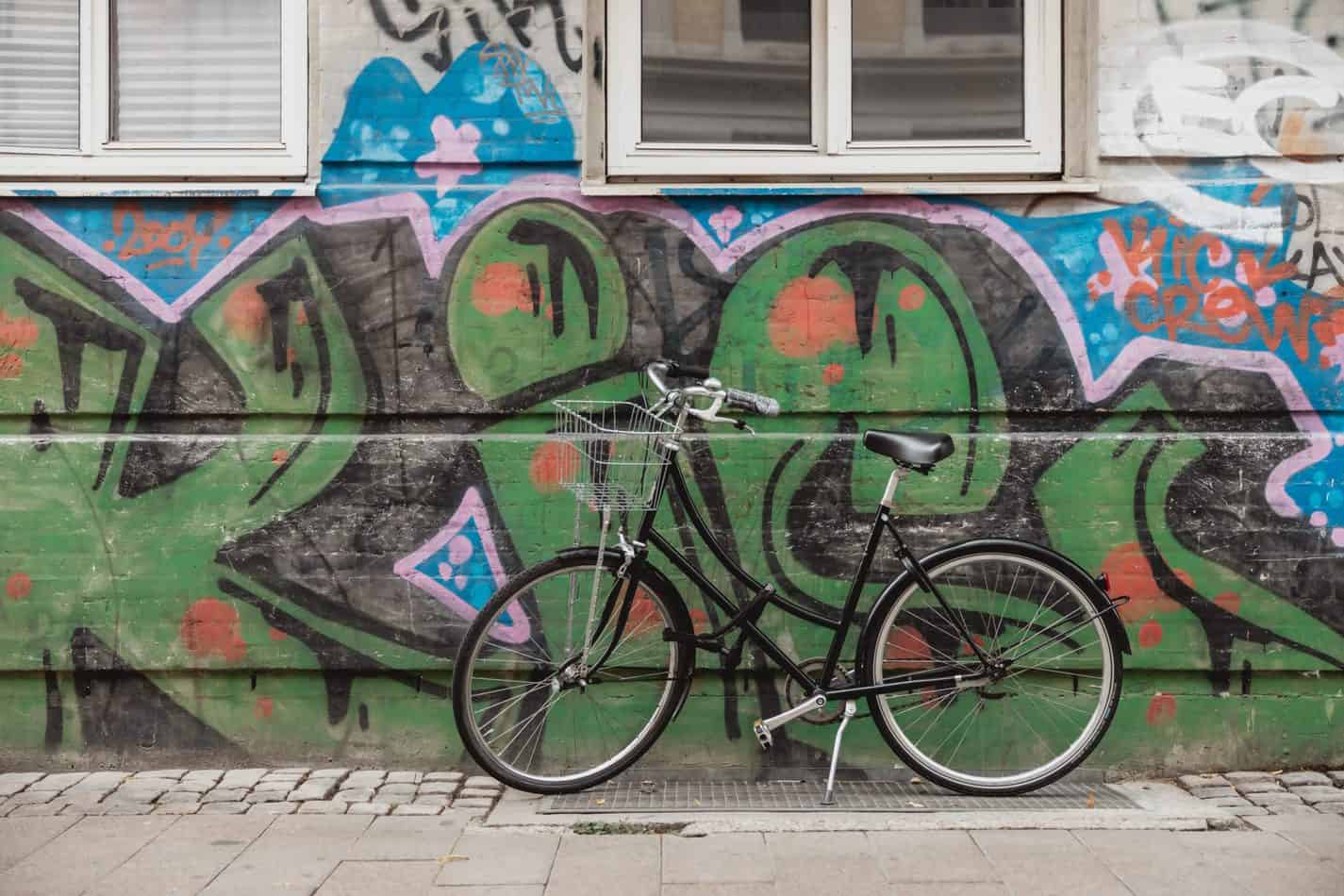 Why is it called Nørrebro?
Navigate to the post I recently did on Vesterbro, to find out where the neighborhoods Vesterbro, Nørrebro and Østerbro got their names from and what they mean.
Nørrebro – lively and sizzling
The neighborhood Nørrebro is to the left of the Inner City, past the lakes, which divide the two neighborhoods. Dronning Louises Bro (the bridge of Queen Louise) takes you right downtown Nørrebro via the street Nørrebrogade. The other two adjacent bridges do also lead to Nørrebro, but they run on the outer rim of the area.

It is the most colorful and vibrant neighborhood of Copenhagen, known to have the most ethnicities and young people living there. So, if you're looking to have a drink or hang out on the streets with the locals, Nørrebro is really good place to go.

Especially on the weekends several streets are packed with people, meeting up with their friends at their favorite cocktail bar or restaurant. The list of food you should try and bars you should visit is long as you will see below.
Shopping
Native North
Elmegade 3, 2200 København N
This is a Danish menswear brand, which has been around since 2014, where it was founded by Morten Hvidtsted. This is simple Scandinavian design, with an urban workwear feel to it.

Fünf
Elmegade 2, 2200 København N
Just across the street from Native North is Fünf. It started out with 5 designers (hence the name, which is the number 5 in German), now they are 3. 3 different designers of women's clothing, that all have in common, that they represent their own personal style and personality.
Playgrounds
Wesselsgade 12, 2200 København N
Nørrebroparken, Stefansgade 28-30, 2200 København N
Both are gated playgrounds run by the municipality of Copenhagen and manned with pedagogical personnel. Here both big and small children can have a lot of fun, when using the facilities, which include: sandbox, baby swings, playhouses, bicycles, basketball, table tennis and a lot of other things.

On some days during the warmer months, there is even an area where smaller kids can play around with water. Toilets are also to be found on the premises.
Places to eat & drink
This is foodie heaven! There are cuiseines represented from allover the world, so no matter what kind of food you're in the mood for, Nørrebro will have something to offer.

First of all is the shawarma. Throughout Nørrebro can you find shawarma vendors, but especially on Nørrebrogade, are they very frequent. This is most likely the most popular thing to eat in the neighbourhood, why they even have held annual Nørrebro shawarma contests. Here are some safe bets:

Kösem, Nørrebrogade 186
Dürüm Symfoni, Nørrebrogade 104
Durum Bar, Nørrebrogade 195

Please don't settle with only eating shawarmas, since there is so much else you can endulge in. Take a pick!

Manfreds
Jægersborggade 40, 2200 København N
At Manfreds they are very focused on organic local produce and lots of vegetables, but one dish is actually particularly popular, which is their beef tartare.

Relæ
Jægersborggade 41, 2200 København N
Across the street from Manfreds is Relæ – same owner Christian F. Puglisi. Like Manfreds (and Mirabelle and Bæst) they get their vegetables and fresh milk from their own farm outside Copenhagen, for the guests to enjoy that very same day.

Mirabelle
Guldberggade 29, 2200 København N
Another of Christian Puglisi's restaurants. It's both a restaurant and a bakery, where they sell the most delicious pastry and bread. In the restaurant are open for both breakfast, lunch and dinner.

Bæst
Guldberggade 29, 2200 København N
Just next door is the organic Italian pizzeria Bæst (which is Danish for "beast") and once again it's Mr. Puglisi who's behind. Go here for their renowned charcuterie and out this world pizzas.

BRUS
Guldberggade 29, 2200 København N
When you finish your meal at Bæst (or maybe for a predinner beer), walk across the street to the microbrewery/brewpub BRUS. In this old factory building the brewery To Øl (Two Beers) brews all kinds of interesting beers and constantly try to challenge your taste buds. You could also stay here for en entire meal and dine in their adjoining restaurant, where they serve lovely beef tartare, chicken wings, burgers and lots more.

Kiin Kiin
Guldbergsgade 21, 2200 København N
Down the street (more like around the corner) is nothing less than a Michelin star Thai restaurant. Kiin Kiin has held the star since 2008 and it was actually the first of its kind, to receive a star without being situated in Thailand. Using Danish produce, combined with the flavors from Thai spices, in updated Thai dishes, Kiin Kiin has hit a perfect homerun.

Mahalle
Nørrebrogade 51, 2200 København N
Affordable delicious Lebanese food. Can also be found at 3 other locations in town.

Andersen & Maillard
Nørrebrogade 62, 2200 København N
Another contender for the best croissant in Copenhagen perhaps? And they serve great coffee as well.
Other highlights
Dronning Louises Bro. The gateway to the neighbourhood is actually a favorite place for the locals to hang out. Especially during warm summer days, the sidewalks of this bridge is filled with young people chilling, having a cold beer and listening to some tunes. It's quite a spectacle and kind of gives you sense of what's in wait for you after crossing the bridge.
Assistens Kirkegård (Assisten's Cemetery). Yes, this is a place you should visit. A part from being a 25 hectares large cemetery, it also serves as a public park, where the locals enjoy to bring a picnic blanket and appreciate the lush green surroundings.

Many people have been buried here since the cemetery was inaugurated in 1760, both anonymous and famous, most notable perhaps, physicist Niels Bohr, author Hans Christian Andersen and philosopher Søren Kierkegaard.

Some people find it interesting to wander around the cemetery to see if they can spot a name on the tombstones, that they can recognize. You're absolutely welcome to use the park, as long as you only picnic where you're allowed to and of course respect the graves and possible mourning people.

Jægersborggade. Not that many years ago, this street was filled with pushers and was not a place you wanted to live. But today it's a favorite hangout and the street is covered with cool shops.

Drink your morning coffee at Coffee Collective, have some porridge at Grød, and finish of with some pastry at the bakery Meyer's. Then go shop some Danish jewellery at Ladyfingers, buy a handmade hat next door at Wilgart and finally build up your appetite, while browsing the Italian grocery shop La Dispensa (who also run Il Buco, where they make perhaps the best croissants in all of Copenhagen).

Now you're ready for some lunch at Michelin star Relae, followed by handmade caramel at Karamelleriet and clothes shopping at My Favourite Things. Time for dinner at wine bar/organic restaurant Manfreds, finishing the whole day at Istid, for some lovely liquid nitrogen cooled ice cream.
Interactive map of Nørrebro